Florence has a special place in my heart. It's the city that holds so many good memories and experiences from my college days. 10 years ago, my boyfriend (now husband) and I got to study abroad together and we spent 10 wonderful months in this city. We traveled through most of Europe but Florence was our home for the year.
Ever since our study abroad program ended, we always talked about going back. Every year we would travel back to Europe, but since I have immediate family in 2 other European countries and I wanted to see them, it was tough to take time away from being with them. Until this year, when we decided to just finally make it work and GO.
It all started late last year, when John bought concert tickets to Radiohead in Florence and made the initiative of getting us one step closer to going. Since we alwayssss slack off on buying plane tickets in advance, having purchased the concert tickets so far out (8 months to be exact), really encouraged us to make this trip work.
So we booked a week in Florence and had the best time ever!! Our 10 year reunion was a success when we traced back to our old apartments and hangouts. Seeing how our "old spots" have changed or how they've remained just as we left them, was beyond fun. The excitement of this was probably the only thing that got us through the major heat in Florence. Our Ice creams would melt away the second we got them, and taking a picture was just out of the question. Lol. Perhaps you caught it on Instagram – we both got a bit dehydrated and sick on our 2nd day.
If you notice my glow, let me tell you, it was all sweat!!! Lol. I was roasting away just standing in one place, but luckily I brought along this cute outfit that kept me cooler. The white top was super lightweight and breathable thanks to the floral embroidery details aka "holes," as I called them. 😉 It was by far my favorite top for this trip 'cause it paired with almost everything, like this skirt. Since you all know how much I love denim and skirts, then you can probably imagine how heart-eyed I was when I found my new favorite jean skirt online. I've already been wearing it on repeat!
WEARING
Embroidered White Top | Denim Lace-Up Skirt | Embroidered Mule Slides | White Crossbody Bag | Sunglasses | Disc Choker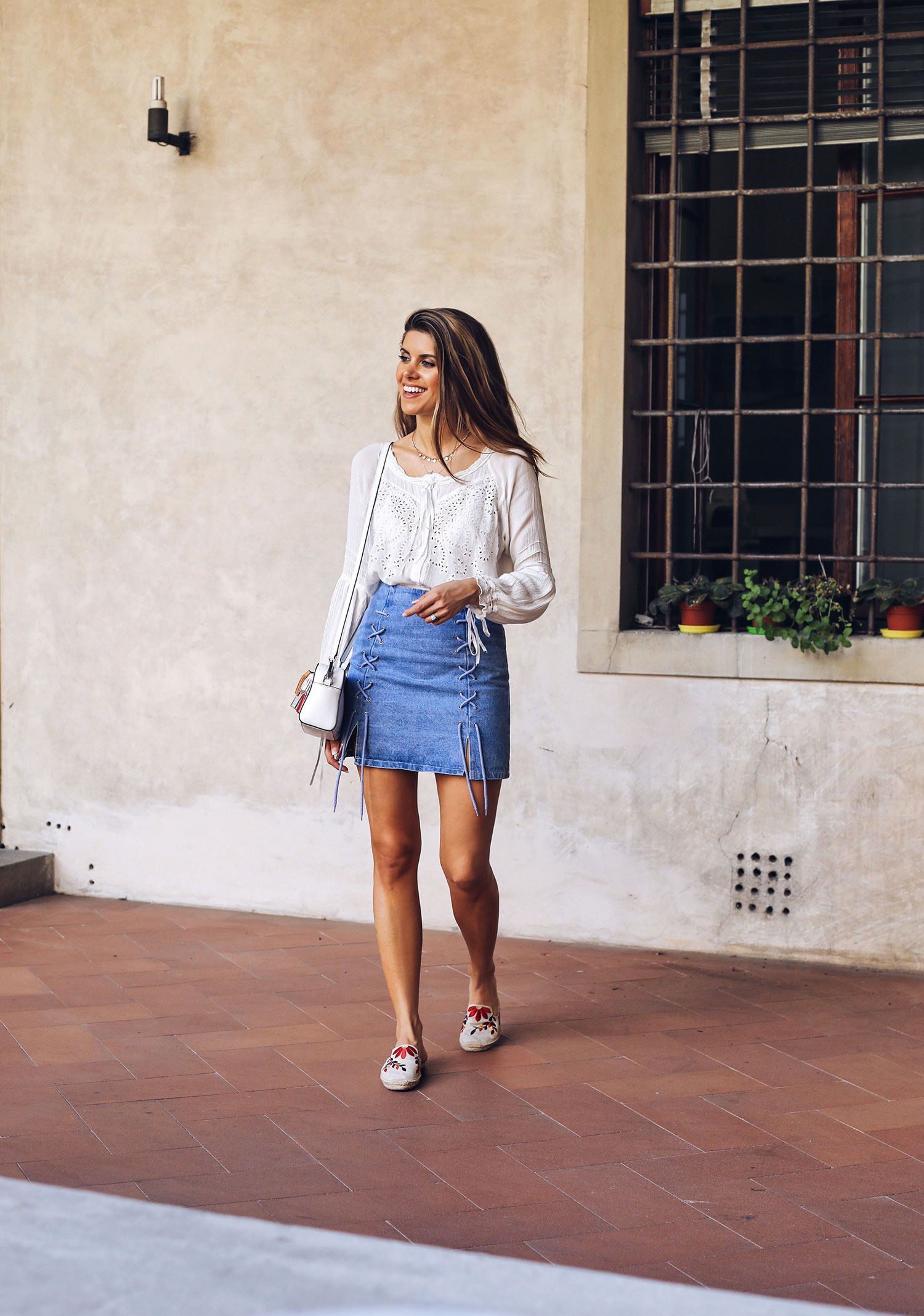 xx Adelina
Special thanks to Chicwish for sponsoring this post. All opinions are my own.