Happy Friday!!
It's been already 3 weeks since I landed in Europe for a little summer getaway. So far, the trip has been a 10/10, thanks to planning ahead and getting organized (for the first time ever) with my hubby! Two will always be better than one! 🙂  I'll be sharing details on how I got ready for my 5 week trip abroad here on the blog in July, so stay tuned!
Today, I wanted to share with you guys how I've been taking care of my skin while traveling. This year I knew I wanted to be fully equipped. Not by the number of bottles I brought along, but by packing smarter and bringing targeted skincare products specific for the climate that I was going to be traveling to. Not to mention the small bottle sizes make these ideal for my carry-on! <Insert happy face>!! Thanks to Pour Moi Beauty, I only needed 4 of their skincare products to be completely covered on my trip. This in turn made my packing soo much lighter and soo much easier!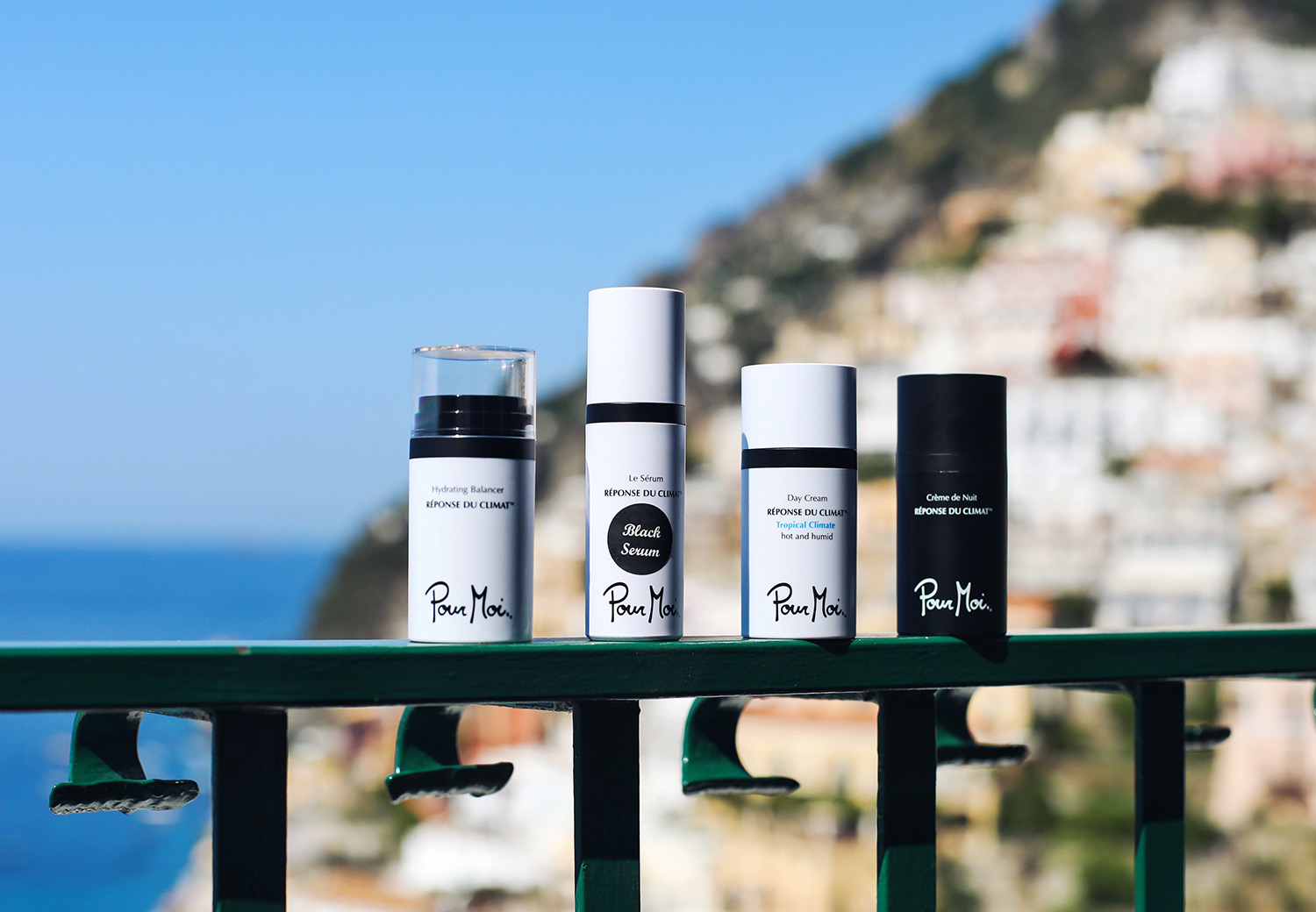 My 4 Summer Essentials For Italy/Bulgaria
Hydrating Balancer – As you guys may already know, I spent 10 days in Italy and the rest of my time traveling throughout Bulgaria. I made to sure to pack this balancer which is loaded with some serious nourishment! It restores your skin to a healthy pH balance (important in reducing the signs of aging, inflammation, breakouts, and sensitivity) and the best part about it is that you notice the benefits instantly! I apply this after I wash my face.
The Serum: Black – This is my favorite serum yet! It makes my skin feel soo good and soo smooth!! Highly luxurious, it delivers maximum hydration, youthfulness, and glow! I apply this after my Hydrating Balancer (above).
Tropical Day Cream – Italy was sooo hot and very humid, same with Bulgaria. As I'm still roasting away, I can feel that my skin needs something very lightweight but yet moisturizing. This product has allowed my skin to feel great throughout my trip without clogging my pores or making my skin feel greasy despite the heat and humidity. I apply this in the morning.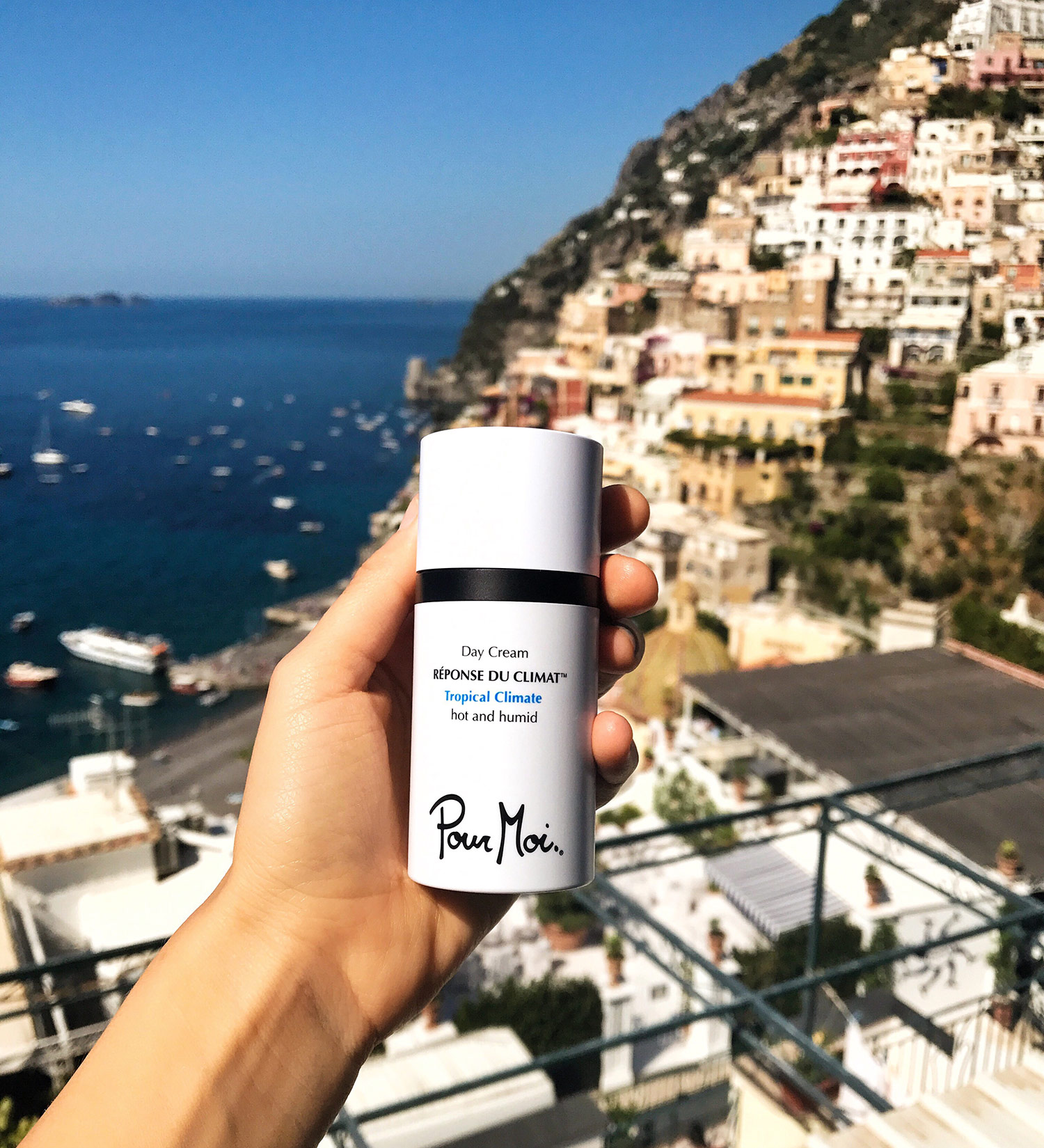 Night Cream – Favorite night cream for the past 1.5 years! Plus, it's great for all climates. It's loaded with nutrients for deep hydration and has anti-aging properties that my skin absolutely loves! I apply this after I wash off all my makeup and after my Hydrating Balancer + Serum. I wake up with the smoothest feeling skin!
When I'm home in California, I switch to the Temperate Day Cream. I live by the ocean and so the temperature is very mild and rarely goes over 85 Fahrenheit. However, if I go to LA or the Valley, I make sure to bring my Desert Day Cream because it can get super hot and super dry.
Video on my current Skincare Routine HERE.
WEARING
Lavender Cardigan // White Cami // White Distressed Jeans // Light Pink Handbag // Disc Necklace // Round Sunglasses
xx Adelina
Special thanks to Pour Moi Beauty for sponsoring this post. All opinions are my own.