I know how much you guys have been anticipating a hair care routine post from me, and today I am happy to share just that!
Since I can remember I have been using a different shampoo + conditioner. Each time I run out, I go and buy a different set of bottles. My reason for that is to alternate and offer a fully rounded selection of ingredients that would nourish my hair. Much like our bodies, our hair needs a variety too! Have you ever bought a bottle of shampoo + conditioner and loved it for the first week or two, but then by the end of the month you felt like it was not working as well anymore? Well, that's how I always feel. So I have to spice it up. 🙂
For the past month I have been using Pantene Pro-V's Breakage Defense Shampoo & Conditioner and I'm still going strong with it. I must admit, it has been the most refreshing shampoo + conditioner combo for my hair in MONTHS! I'll explain why.
My Hair Journey
A few years ago I decided to only use the "limited ingredients" shampoos and conditioners on the market. I would wash my hair 2-3x a week at best and alternate brands. Over time, I began to struggle with dry brittle hair and lack of shine. I couldn't figure out what the root cause was. I was eating healthier than ever, I was coloring my hair way less, and yet my hair still didn't look its best! And so I was feeling frustrated and confused.
Then I thought maybe I needed to take Biotin or use more coconut oil in my hair. While these things help in the long run, they didn't help create a noticeable enough difference on a day-to-day basis. Switching up my hair care routine has helped, but since I have fine hair, I have really been lacking that nourishment to help keep it looking strong, shiny and moisturized. Insert Pantene's new Breakage Defense Shampoo. A total game changer for my hair.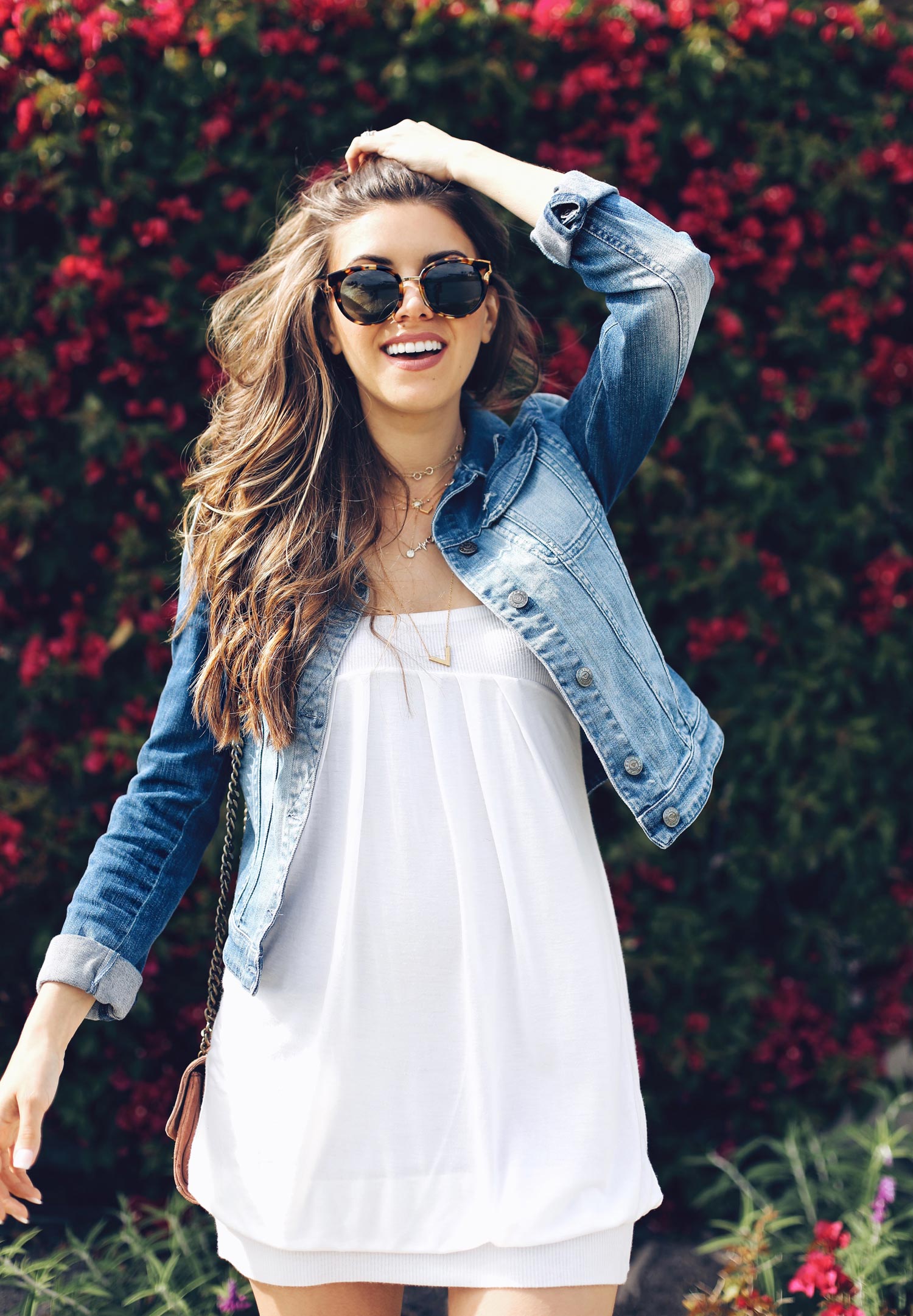 After doing a little research, I found out that Pantene's new shampoos penetrate deep and nourish my hair with lipids and antioxidants. Thus helping to really lock in that lost moisture that I've been missing while giving me back my shine and strength! I love how my hair feels after just using the shampoo. I can safely say that my hair hasn't felt this moisturized and nourished in a very long time!
For someone who washes their hair as little as possible, I now feel comfortable washing it more regularly. I love that freshness and I don't have to worry about my hair feeling stripped or weak. It's been the best feeling to have my softness and smoothness back, thank you Pantene!
Wearing
Jacket: Armani Jeans, similar HERE // Dress: DVF, similar HERE & HERE // Bag: Zara, similar HERE // Booties: Lulus // Sunglasses: Tory Burch
xx, Adelina
Thank you Pantene for sponsoring this post. All opinions are my own.